Roger celebrates his 50th birthday in style with his first ever sale.
Prices have been discounted by up to 25% where possible, in order to help the old man thank the supporters of the range and mark his half century. Roger hopes this will drive sales and allow him to fund the next string of releases, i.e. the Polish hussars, chasseurs and cuirassiers. So if you have any interest in seeing these made and you've been itching to start a Polish force, now is the perfect time to take advantage of some really good prices.
For a detailed price list, showing all the discounts available, check the ordering page of the website
There are a host of releases in July and August, so please keep an eye out on TMP and on this blog for more.
The first of the releases is the now-completed firing line.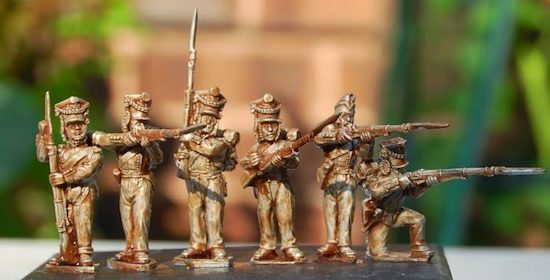 It is comprised of 18 unique figures, and is designed to represent a Grand Duchy of Warsaw battalion 1809-13 giving fire. Each pack contains:
Command – six figures –

£8.00

GBP

, reduced from

£9.25

GBP
Fusiliers – six figures –

£7.00

GBP

, reduced from

£9.00

GBP


Grenadiers – three figures –

£3.50

GBP

, reduced from

£5.00

GBP


Voltigeurs – three figures (these can also be used as extra skirmishers) –

£3.50

GBP

, reduced from

£5.00

GBP